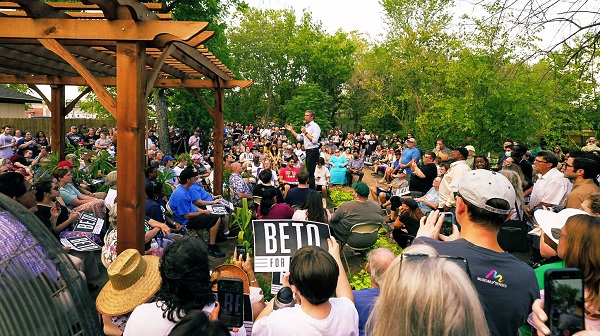 @BetoORourke Twitter photo of Texas governor candidate Beto O'Rourke campaign event in Waco on August 6
Mayor Says Texas Forcing Migrants
in Buses to NYC Against Their Will
Capitol Inside
August 7, 2022
New York Mayor Eric Adams issued a scathing denunciation of Governor Greg Abbott on Sunday amid assertions that Texas is forcing migrants on buses to places where they don't want to go - a blatant abuse of power and legal authority if the allegation is accurate.
"This is horrific when you think about what the governor is doing," Adams said as a bus from Texas arrived at Port Authority terminal where migrants are being dropped off and abandoned in the heart of the nation's largest city.
"Some of the families are on the bus that wanted to go to other locations, and they were not allowed to do so. They were forced on the bus," Adams said. "Our goal is to immediately find out each family's needs and give them the assistance they want."
The Republican governor hatched the taxpayer-funded migrant transport plan as a campaign ploy in April when he ordered the state to start sending people who'd crossed into Texas illegally to Washington D.C. in an attempt to teach President Joe Biden a lesson about the problems that illegal immigration has wrought on the Lone Star State.
But state officials said at the outset of the busing scheme that all of the migrants who were being transported to the District of Columbia had been cleared by the federal government for travel and had volunteered to go in writing. The NYC mayor indicated today, however, that the program hadn't been voluntary for some of the migrants who've been cast into the streets of his city. Adams expressed outrage that the Texas governor would use migrants as political pawns in a re-election campaign that peaks when he squares off with Democrat Beto O'Rourke at the polls this fall.
Adams won the mayor's post after two decades as a high-ranking member of the New York City police force. He felt the need to fight back in the face of derogatory and deceitful rhetoric from Abbott. Adams may not have realized that Abbott wasn't interested in a debate on the merits - that the offer for a Texas trip was obviously a trap in a ploy designed for maximum attention and shock value.
After being largely dismissed the Biden administration and Washington D.C. mayor as a noisy nuisance trying to build his name for a 2024 presidential race, Abbott has found a willing combatant with the veteran police officer who leads New York City. Adams clearly hit a nerve last week when he branded Abbott as a coward. The governor retaliated with a vengeance when he ordered the Texas Department of Emergency Management to start shipping migrants to NYC with the Port Authority location at Times Square for the apparent sake of added shock value.
The word cowardly is especially sensitive now for Abbott amid the aftermath of a mass shooting in Uvalde where 91 Department of Public Safety officers were among a state, federal and local law enforcement contingent of nearly 400. Abbott and the DPS have made a disaster of the state response to the massacre at Robb Elementary with false initial claims about the police response before coverup and scapegoating bids that were eventually exposed.
The governor is fighting to hang on in a re-election race that appeared to be tightening in the past few weeks with two polls showing O'Rourke within 5 points of striking distance in the general election three months from now. O'Rourke has combined an all-star fundraising prowess with a retail campaign that he's running the old fashion way with stump speeches in rural areas several times a day.
Abbott has been running for a third term from the Governor's Mansion for all practical purposes - with occasional trips out of Austin like a visit to the CPAC conference this weekend in Dallas as a panel participant. But Abbott has made border security the re-election campaign's dominant priority up to now - and the feud with Adams is a timely stage to try to wrestle attention from Uvalde back to Operation Lone Star.
Adams is angry now. "@GregAbbott_TX used innocent people as political pawns to manufacture a crisis. New Yorkers are stepping up to fix it — that's our city's values," the mayor's office tweeted on Sunday. "But we need the federal government's help — money, technical assistance and more."
more to come ...