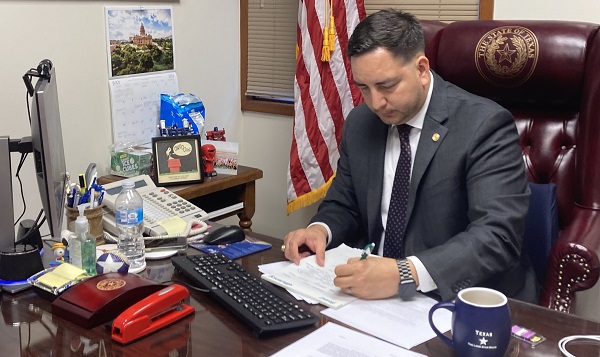 Speaker Feeds Visions of Democrats
in Shackles with Cortez Arrest Order
Capitol Inside
July 26, 2021
Texas House Speaker Dade Phelan appeared to make history on Monday when he revealed that he'd issued an arrest warrant for State Rep. Philip Cortez's arrest after he'd flown back to Washington D.C. the day before to be reunited with Democrats who are boycotting a special session in Austin.
Phelan - a Beaumont Republican in his first term as speaker - said that he'd been compelled to order Cortez's arrest after the San Antonio Democrat reneged on a vow to be back on the floor when the Texas House convened on Monday afternoon. Cortez emerged from out of the blue at the state Capitol late last week in a purported attempt to negotiate a pact with the Republicans on a voting bill that he and 56 fellow House Democrats have been strangling for two weeks with a walkout that's left the lower chamber without a quorum for two weeks.
"Rep. Cortez returned to the Texas Capitol of his own volition and represented to me and his fellow members that he wanted to work on policy and find solutions to bring his colleagues back to Texas," Phelan said. "As a condition of being granted permission to temporarily leave the House floor, Rep. Cortez promised his House colleagues that he would return.
"Instead, he fled the state and has irrevocably broken my trust and the trust of this chamber," the speaker asserted as the justification for the arrest warrant's authorization.
Phelan initiated a round of bargaining between Cortez and State Rep. Andrew Murr - a Junction Republican who's taken over as the chief House author on the voting legislation over which the GOP majority has no control for the time being. Murr and Cortez remained at loggerheads, however, after three apparently unsuccessful negotiating sessions.
Cortez appeared to be catching substantial grief from Democratic colleagues who disavowed the solo quest for a compromise while giving the impression that he'd abandoned them without an advance warning or explanation on a return trip to Texas. The Alamo City lawmaker's return to the forgiving arms of House Democrats in Washington D.C. has given them a new showcase for a united front that survived its first apparent threat with the on-again, off-again Cortez maneuvering.
The GOP faithful will be disappointed to learn that the speaker didn't actually the kind of criminal arrest warrant that rank-and-file conservatives have envisioned based on rhetoric from Republicans like Governor Greg Abbott, U.S. Senator Ted Cruz and Phelan.
Cruz falsely asserted last week that police have "clear legal authority" to arrest Texas lawmakers who are breaking quorum and to bring them back to Austin in handcuffs and leg irons if necessary. Cruz explained that he'd become an expert on the subject while working as an assistant attorney general on Abbott's staff when House Democrats were blocking a vote on a redistricting plan with a holdout in Ardmore, Oklahoma in 2003.
But Phelan has issued a civil arrest warrant - and it's all but impossible to imagine a Department of Public Safety officer laying a finger on a state legislator who might refuse to obey their demands to return to the Capitol at the speaker's official orders regardless of formal authority.
The Cortez arrest warrant is purely symbolic and unenforceable as long as he's not on the ground in the state of Texas. Phlen hasn't indicated if he plans to have warrants for the other absent Democrats issued at some point.
more to come ...