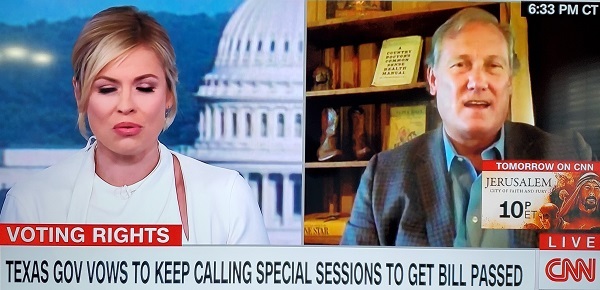 Republican Texas Rep. Travis Clardy defends voting restrictions House Democrats are killing in current special session.
House Speaker Has to Make Dems Deal
that Gives Both Sides Appearance of Win
Capitol Inside
July 19, 2021
GOP Speaker Dade Phelan faces an epic test of leadership as the only Republican in Austin with the actual ability and major incentive to woo 55 Texas House Democrats back to Austin and shut the standoff on voting rights down once and for all.
Governor Greg Abbott and Lieutenant Governor Dan Patrick have rendered themselves largely irrelevant in the first failed special session with extreme positions that are identical and obstinate. The Texas Senate Republicans are insignificant this summer as well after allowing themselves in recent years to become Patrick rubber stamps. They are not factors as a group in the current crisis without something unique to bring to the table.
That leaves Phelan as the only realistic hope for a peaceful resolution that the Texas Legislature has to have at some point in the next six weeks to keep from going broke on September 1 as a consequence of Abbott's veto of its budget for the next two years in Article 10.
Phelan has to step up and out from the pack to head off a disaster of a magnitude that very few of the Republicans at the statehouse appear to comprehend or to recognize. Phelan has to make a deal with the Democrats to save the other Republicans from themselves.
The first-term speaker from Beaumont tried tough talk and gimmickry last week when he ordered the missing Democrats to return to Austin immediately with the option of flying back on a private jet that he'd have waiting for those who've been in Washington D.C. for the past week. That ploy had no chance to work beyond its value as show for a radical and unforgiving conservative base.
But the audacity of demanding colleagues to do anything - especially after defending them for the same tactics that derailed the voting bill this spring - has all but guaranteed the Democrats will hold out even longer to show the speaker they had a major part in electing that they will not be intimidated or bullied or bossed around.
Phelan nonetheless is the only GOP leader who the House Democrats and their GOP colleagues can trust in the Texas capital city. Abbott insulted their intelligence when he peppered the special summer call with unmistakable bait with items like a bonus payment for retired school teachers, family violence prevention and funding for foster care. The governor and the Republicans had shown no interest in those issues and other Democratic priorities during the regular session. The Democrats will see them now as the cheese in a trap.
The prevailing sentiment among GOP leaders and lawmakers has been that the Democrats cannot hold out beyond August 8 when the current summer session comes to an end. But that has the potential to be a dangerous misassumption as conventional wisdom during the most extraordinary and unpredictable time in modern world history.
Phelan can take a page from the Senate Republican playbook and simply go along with Abbott and Patrick. Or Phelan can go old-school and try to figure out a way for both sides to save face in a no-win situation that Abbott and the Republicans created when they overestimated their strengths in numbers and ability to match wits with Democrats who are in another league when it comes to legislative ingenuity and dedication to cause.
Phelan could start by muzzling some of the House Republicans who are making a bad situation worse with incendiary rhetoric and unenforceable threats. Does anyone really believe that the Democrats are going to come home when they've been told they would be arrested and held hostage on the chamber floor?
Phelan has to give them a reason to return - and he has no time to waste.
The speaker and his most capable lieutenants - hypothetically - could attempt to find a middle ground by offering to remove the most controversial restrictions in the GOP election bill like a provision that would give poll watchers a license to intimidate and to harass voters.
The Democrats might expect a promise in writing to have the restoration of Article 10 as the first and only item on Abbott's initial call for a second summer session that he's said he will call immediately after the first goes out of business less than three weeks from now.
Phelan would have to be tough in light of the way that Abbott, Patrick and some of the speaker's top lieutenants like State Rep. Briscoe Cain of Deer Park have sought to give Texans the impression that compromise is bad and not an option. Phelan could encounter a deluge of criticism from the hard right for bringing the art of consensus back to a Capitol that revolved on it until recent years.