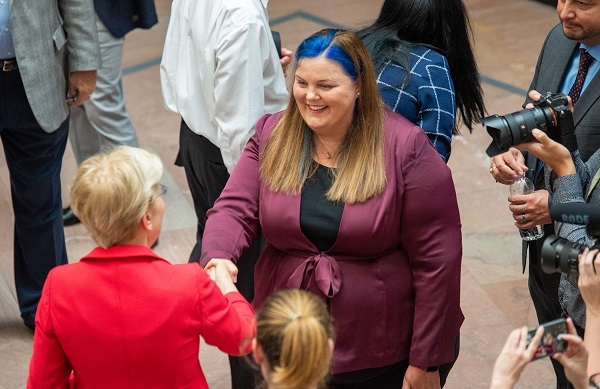 Blue Wave Democrat Wants to Stay
in D.C. in Top Target Congress Race
Capitol Inside
July 20, 2021
State Rep. Michelle Beckley - a Carrollton Democrat who's the epitome of the Texas blue wave in 2018 - wants to work in the city where she's spent the past week with a campaign for Congress that she launched on Tuesday in a suburban district that President Joe Biden won last fall.
One of 55 Texas House Democrats who've blown up a special session while holed up in Washington D.C. for eight days, Beckley revealed in an email and video that she's running for the Congressional District 24 post that rookie Republican U.S. Rep. Beth Van Duyne will attempting to defend for the first time in 2022.
The CD 24 race will be one of the Democrats' top targets on the U.S. House battlefield next year as the most vulnerable district in Texas on paper. Beckley gave a preview of what to expect from the Democrats in 2022 - with mainstay issues like education and health care taking a back seat to an epic fight on voting rights with the Trump election challenge and its deadly consequences as the driving theme.
Beckley goes for the jugular in a video that was shot in a hotel room in Washington D.C. with the sophomore lawmaker working on the script at a desk with Republican U.S. Senator Ted Cruz talking on a television screen on a wall in the background.
Beckley says that Van Dunye's first major act as a congressional member was a vote for "throwing out millions of ballots to help Trump steal the election" in 2020. Beckley portrays herself as warrior for voting rights in an epic fight to save democracy from Republicans like Donald Trump and Van Duyne.
"Beth Van Dunyne can walk away from her duty to defend democracy - but not me," Beckley declares in online advertisement. "LBJ said we do not choose to be the guardians of the gate - but there is no one else but us."
The video features scenes from the riot at the nation's capitol on January 6 - with horrific images of Trump supporters attacking police officers after falling for his false claims of game-changing voter fraud in his failed re-election bid. The Beckly ad flashes at one point to an Ann Richards campaign button on a table before the shout out to Lyndon B. Johnson - the Texan who muscled the civil rights legislation through Congress in his first year as president in the aftermath of John F. Kennedy's assassination in Dallas.
Beckley contends that Van Duyne has been flippant about the Republicans' attempt to undermine the election and her own vote against the certification of Biden's victory at the outset of her first freshman term. The video seeks to tie Van Duyne to Trump and Cruz specifically.
Beckley's surprise emergence as a congressional contender cleared the way for Republican Kronda Thimesch to run again for the House District 65 seat that the Democrat will be giving up after two terms with the bid in CD 24. Thimesch, who'd been gearing for a rematch, escalated her criticism of Beckley in the fallout from her announcement for Congress even though she won't be an opponent again in HD 65.
The Thimesch campaign chided Beckley for "cringe-worthy" interviews on CNN and Fox News shortly after her arrival in Washington D.C. last week after fleeing Texas to deny the quorum that Republicans in the Legislature's lower chamber need before they can vote on a controversial election bill that the Democrats are holding hostage.
Beckley "walked off the job in May, killing dozens of good bills that were almost at the finish line," Thimesch said in an email. "She walked off the job in July to fly unmasked with a case of beer for a D.C. vacation. Now she is walking off the job for the people of HD-65 with critical issues for the district unresolved. For Michelle, it was always all about Michelle."
Beckley disagrees - saying in an email that "this fight isn't just about Texas. A dozen other states are on the verge of passing laws that would keep millions of working Americans and people of color away from the polls. This is all based on lies about a stolen election and made-up claims of voter fraud."
Beckley unseated Republican Ron Simmons in 2018 when Democrats flipped a dozen Texas House districts, two seats in the state Senate and two more in the U.S. House as a result of Trump's unpopularity in suburbia and a Democrat Beto O'Rourke's close showing in a bid to oust Cruz at the top of the ticket as a secondary factor. Simmons had been planning for a rematch with Beckley before deferring to Thimesch after deciphering the handwriting on the wall.
Beckley's victory was especially painful and embarrassing for Simmons as a Democrat with irradiated streaks of blue that keep changing tint as a signature characteristic along with the way conservative Republicans seem to despise her more than most if not all of 11 colleagues from the blue wave class of 2018 combined.
Beckley has thrived on the villainous reputation in a swath of Denton County where she defeated Thimesch by 3 percentage points in 2020 with 51.5 percent of the HD 65 vote. Biden beat Trump in CD 24 by more than 5 points while winning by double-digits in HD 65 where Thimesch is attempting a comeback.
While Thimesch won't get a shot at payback with Beckley, the HD 65 rebound candidate asserted that the outgoing incumbent has an agenda that seeks to cash in on a ranking as "furniture" on the Texas Monthly list of best and worst legislators in June.
But Beckley and Thimesch both know that the insulting characterization was inaccurate regardless of what people think about the first blue-haired lawmaker in the modern history of the Lone Star State. The vast majority of House Republicans were arguably more worthy of a furniture tag than Beckley, who wasn't afraid to speak out in the fights on the hottest issues despite some of her Democratic colleagues' superior debating skills as attorneys in many cases.
Beckley gives the CD 24 contest gladiator potential in the only targeted GOP district that Biden carried last year. But Democrats came within 2 points in a handful of other U.S. House races that the GOP had been defending in 2020. The Democrats have an armory of new ammunition this time around with the election challenge and the rally that triggered insurrection that's produced the most terrifying images since the terrorist attacks on the World Trade Center and Pentagon almost 20 years ago.
Beckley may expect to be a slight underdog in the worst case scenario in a congressional district where Denton County accounts for only 16 percent of the residents. Simmons had been a prohibitive favorite before Beckley knocked him off. Beckley and the points might be a smart bet now.