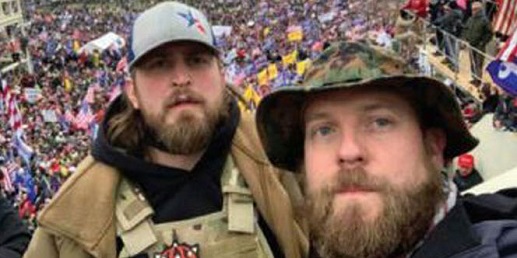 East Texas pair arrested for roles in riot that killed five at Capitol after Trump rally. DOJ photo

Abbott Faces Epic Backlash for Rant
that's Poison for Back to Blue Crusade
Mike Hailey
Capitol Inside
January 19, 2021
Governor Greg Abbott suggested on Tuesday that he's more concerned about American troops having their feelings hurt than protecting the new president.
Abbott has to be holding his breath now as the intensified security precautions that he'd condemned on Twitter culminated on Tuesday with at least a dozen National Guard troops removed from duty in Washington D.C. after being identified as potential turncoats.
Abbott faces the prospect of career-razing embarrassment if any of the National Guard members who've been relieved of stations in the U.S. capital were in the unit that he'd dispatched there amid unprecedented safety concerns on Democrat Joe Biden's inaugurated as president on Tuesday.
The Republican governor probably can forget in the meantime about the Back to Blue plan he's been trying to sell to the Texas Legislature after a Houston police was charged Tuesday with an assortment of charges for participating in the mob attack and then lying to authorities about his involvement.
Abbott has legislation on the drawing boards that would shift control of the Austin police to the Department of Public Safety that he oversees in the executive branch of state government. Abbott has been pitching the proposal on deceptive claims about the Capital City becoming a haven for violent criminals since a council vote last summer for a reform and reorganization plan. Abbott wants the state to have the power to retaliate against cities that defund the police like he's falsely asserting that liberal local leaders have done in Austin with a spike last year in homicides that had been predictable as a result of the coronavirus pandemic.
Abbott can expect questions on whether Tam Pham of Richmond had been one of the officers who'd appeared with him at a press conference in October where he signed a pledge to oppose and to seek punishment against cities that defund the police with Austin as the singular example. Pham, an 18-year Houston police force veteran, faces the possibility of a long prison stint along with a growing list of Trump loyalists who've been arrested in Texas in recent days as participants in the siege in Washington that has the president leaving office this week in unprecedented disgrace.
The governor hasn't said publicly up to now whether he's as highly offended by the treatment that Pham has received from law enforcement authorities as Abbott had been when he learned that the Pentagon and FBI had expanded background checks for 25,000 National Guard members in Washington including 1,000 who he'd sent there.
Abbott has joined a chorus of Republicans who've denounced the violence that killed a Capitol police officer and four others. But the governor who'd railed against Antifa as a bullet point for Back the Blue has yet to acknowledge that Trump's people were responsible for the mob attack. Abbott suggested that Trump shouldn't be punished if wasn't inside the Capitol during the rampage regardless of whether he incited it.
The governor seems to have had nothing to gain and a massive amount to lose with the social media rant this week on inauguration security measures that he perceived as an affront to the Texas State Guard members in Washington. Abbott contended that the Pentagon, FBI and other law enforcement officials had questioned the patriotism of Texas troops with the additional vetting procedures.
Abbott finds himself in a major bind now with the push to protect law enforcement officials in Texas after attacking those at the national level.
more to come ...